At Texas Qualifications and Consulting, we believe the more realistic the simulation is, the more prepared your workers are for the field. That's why we have a state-of-the-art mobile training unit like no other. Our 34-foot simulation rig is equipped with air conditioning, comfortable seating, and realistic training materials. We utilize a two-inch pipeline trap, which allows us to accurately simulate realistic scenarios during the hands-on training and perform multiple evaluations all inside the trailer. We'll provide training on-site so that you don't have to stop production in order to get your employees trained.
All our courses are offered in both English and Spanish.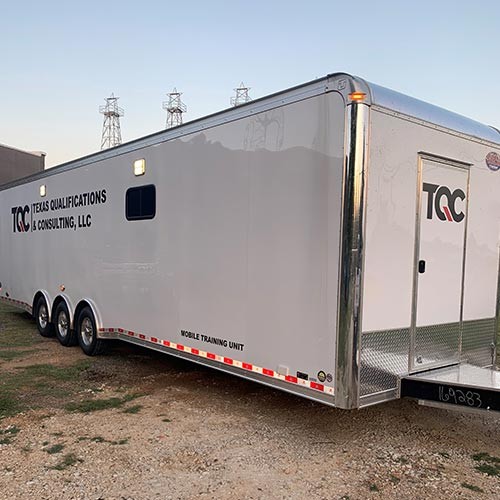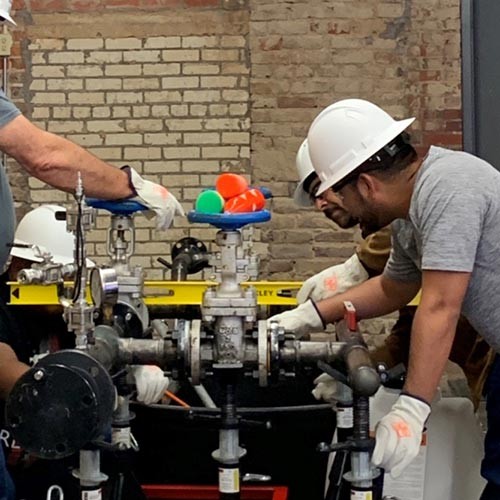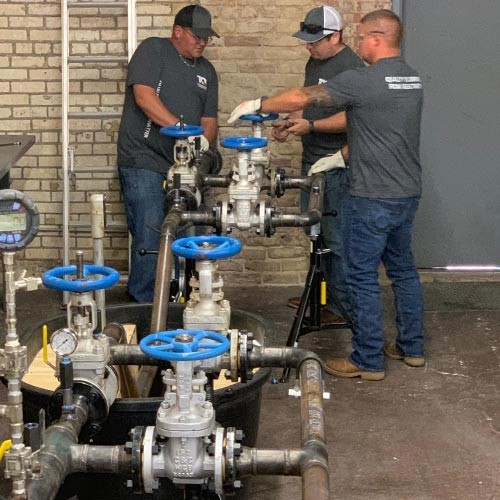 Below are some of the many services that we provide.
On-Site Safety
Consultants for Operators
Our consultants are senior advisors for project teams. They have the knowledge and experience to help develop procedures for High Risk Operations and create Site Specific Safety Plans for any project. They'll also monitor the contractor on their ability to follow the operator's safe work practices. This monitoring helps assure project management that the contractor and contractors work force are following all standards and procedures to execute a flawless project.
Contractor Field Safety Technician
Our safety technicians are responsible for running daily Tailgate Safety Meetings, reviewing the JSAs or JLAs with the crew before receiving the work permit, and tweaking the JSAs or JLAs throughout the day. They monitor the work area with a calibrated four-part gas monitor and keep records of the readings throughout the day. Our technicians also ensure that workers adhere to your company's behavior-based safety program and will lead your accident/incident investigation team to ensure the preliminary NLI/LI Report is correct. The safety tech will also make sure your workers are in compliance with all OQ training and safety training for the project and provide our clients with a daily report addressing any Issues or hazards.
CPR/AED/First Aid
Our courses are OSHA-compliant, equipping your employees for an emergency. These courses keep workers safe, help you avoid expensive fines, and reduce your insurance premiums. Your employees will learn the proper way to administer CPR and First Aid as well as how to use an AED. We'll customize this training based on your company's needs.
Confined Space Safety Training
In this training, we will cover:
Permit versus non-permit required confined spaces
What hazards are encountered in a confined space
The hazardous conditions that would prevent entry
How to respond to a crisis emergency
What personal protective equipment (PPE) should be worn
Procedural requirements
Responsibilities of team members
And thorough training on how to recognize symptoms of overexposure of air contaminants.
Written Safety Manuals
We create safety manuals, develop behavior-based safety programs, define KPIs, write standard operating procedures, and more, all tailored to fit your company's unique needs.
Heavy Equipment Training
Forklift Training
Aerial Manlift
Hydro Excavator
And more!
Other courses we provide include:
PEC Core Compliance

Basic Orientation
Basic Refresher
Basic Pipeline

H2S Clear
Drug and Alcohol Testing
ISNetworld, Veriforce, EWN account Maintenance
Hazwoper
And more!
Check out some photos inside our mobile training unit below.